Cyber Payment
via a protected system
Personal freedom of payment. The most important asset in the world! With S-PAY it remains protected!
Token Sale Stage 2 will end in:
Benefits as an SPC Token owner
The S-PAY Coin becomes the main payment instrument in the S-PAY ecosystem. S-PAY Coins can then be purchased on market exchanges or be earned via mining. They can be used for example to pay for fees and acquire credit cards.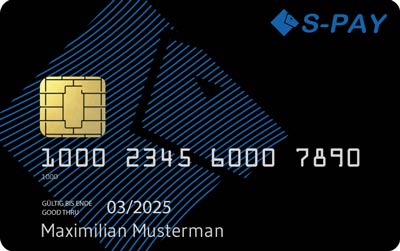 S-PAY Whitelabel Debit Card
Marketplace & Community
With the long-term successful s-pay.me Portal and a community of thousands of satisfied customers, the SPC-Coin has got a huge marketplace right from the beginning.
ERC20 Token
The SPC-Token complies to the ERC20 – Standard and therefore it is a safe contract and easily transferable.
Multinational SPC-Campaigns
create demand and increase the value of the S-PAY Coin – Tokens.
Payments via every available S-PAY
With S-PAY Coins everybody will be able to pay anytime at every place, the S-PAY Payment Systems are in use.
Bonuses, Discounts & Promotions
Paying with S-PAY Coins pays of a lot of times.
 There always are discounts, promotions and bonuses.
Recommending pays off!
S-PAY distributes FREE Tokens to all referrers of the ICO. In detail: every referrer gets 10% free tokens on any referred token sale!
The investment made through the ICO will be used as follows:
Start of SPC – Token Presale
Start of SPC – Token Sale Phase 1
Development S-PAY Coin (SPC), S-PAY Platform, Wallets & Nodes
End ICO – Phase 1 ▶ Distribution of the S-PAY Coins to all Tokenowners ▶ Start ICO – Phase 2
Betatest of the new S-PAY Platform ▶ Betatest of the S-PAY Coin-Wallet and the POS-Mining Nodes
End of Betatests ▶ Final release of the new S-PAY Platform, the S-PAY Coin-Wallet and the POS-Mining Nodes
Founding of the S-PAY Bank in Switzerland ▶ Distribution of S-PAY Whitelabel-Debitcards ▶ End ICO – Phase 2
Our ICO management team consists of selected specialists in finance and software/blockchain development. Within the regulated Swiss company, which will be founded in the course of the S-PAY project, the crew will get a lot larger.
Frequently Asked Questions
How many tokens are for sale?
5,000 million tokens were generated of which 2,450 million tokens are for sale. This is corresponds to 49% of all tokens.
Is the S-Pay token a utility or security token?
The S-PAY token is a utility token based on the Ethereum Blockchain. The S-PAY token is not a security token. Holders of the token have no share in the company! However, for the ICO of the S-PAY Coin each token owner can decide whether to exchange his complete tokens into Coins or to use 50% of his tokens to buy shares.
How many tokens must be purchased at least?
You must purchase at least 1,000 tokens. There is no upper limit.
How can tokens be purchased?
What payment methods do you offer?
We accept Ethereum (ETH), Bitcoin (BTC), Bitcoin Cash (BCH) as well as Euro (EUR) and US dollar (USD) via SEPA/Swift bank transfer. We prefer Ethereum (ETH) as it greatly simplifies the handling of the token allocation.
Which Ethereum wallets are supported?
We support all Ethereum ERC20 wallets, such as MyEtherWallet, Imtoken, Trezor, etc.
Can I transfer cryptocurrency directly from an exchanger or a market exchange?
Please refrain from sending cryptocurrency directly from a market exchange or exchanger! Send cryptocurrency only from your own wallet so that we can reconcile the payment immediately.
Do you have a referral program?
Yes. For recommendations, customers, partners, savers and investors who actively support the project with the formation of a community / network, there is a multi-level bonus system (commission system) with 7 levels. You support other people to become part of the S-PAY community and receive remuneration for the sales of your network as commission for your referral network 7 levels deep. According to the bonus conditions up to 39%. You already start with 20%. This means that the success of the S-PAY project is distributed to committed supporters. From the community – for the community!
When do I receive the referral bonus?
As soon as the purchase of your referred customer has been completed, the bonus will be credited to you for the next settlement.
My question is not listed here!